Lead stories
A wildfire in the southeast Mount Hood National Forest has flared out to an estimated 60 acres, the U.S. Forest Service reported yesterday.

Fundraiser meals start on Nov. 17

An expanded Gorge Soup, a series of micro-philanthropy events where people buy tickets to come to a community soup dinner, returns Nov. 17.

'Quake Ex-II' open to public

On Saturday, Oct. 10 the Hood River County ARES/RACES team will participate in a State Wide Communications Exercise from 8 a.m. to 5 p.m.

Call by Oct. 7 to drop off flag to retire Oct. 10

The Western Antique Aeroplane and Automobile Museum will host a community flag retirement ceremony on Oct. 10 at 2 p.m. in partnership with local Boy Scouts.

Join Hood River County Library District for the third Hood River Death Café, Sunday, Oct. 11 at 3 p.m. in the Hood River Library. At a Death Café, people, often strangers, gather to eat cake, drink tea and discuss death. The objective is to increase awareness of death with a view to helping people make the most of their (finite) lives.
Featured content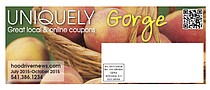 Find great deals Gorge merchants are offering this summer!
---